Yogacharya Hirday Singh Ji:
Hatha Flow, Multi Style
Yogacharya Hirday Singh is a native of renowned holy city of Rishikesh. So the impression of the serene place was sure to be inherited in him. He completed his Post Graduation in 2005 from HNB Garhwal University. Sure he has been a keen learner of yoga from his very young age and also involved in teaching yoga since 2005.

According to him yogic enthusiasm led a great interest to join the professional stream of yoga. Having with total 15 years of teaching experience in India and abroad (China) Hirday has not only a tremandous command over yogic knowledge but also the languages English and Mandarian (Chinese).

Regarding to his professional qullifications he did PG Diploma in Yogic Science from the same HNB Garhwal University in the year of 2006, and in 2009 he received the reward of Yogacharya as he completed his PG Deegre in MA yoga from Uttarakhand University Haridwar. He has a vast experience of several yogic practices i.e. different prevalent yoga styles, kriyas, therapies, philosophy, anatomy, and naturopathy. He has also participated in psychological therapy, yoga & spiritual international conference.

In the same year of 2009 he established 'Yog Amritam Trust' and got published a book too with the similar title of 'Yog Amritam' by including major aspects of yoga.He earned and evolved with a broad knowledge of yoga practices, with the blessings and teachings of his Gurus.

There are many students in India and abroad who have got training under his able guidance and now doing better in their careers.Whereas through yoga competitions and courses he received many certificates and in next step Hirday has also done his 100, 200 hrs yoga teacher training certificate (yoga alliance USA).

With an emphasis on breath, physical alignment, and strength, Hirday designs his classes to cultivate harmony and balance in the body. He is dedicated to helping students become more conscious besides that he lays emphasis on harmonizing the breath in movement and in stillness as well as to have fun along the way.
Shailendra Semwal Ji:
Hatha, Philosophy
Shailendra Semwal was born and raised in the vicinity of the holy city of Rishikesh. He has a deep impression of several Indian religious and spiritual practices. Shailendra's active involvement in several social activities helped him to develop a better sense of a happy and healthy life as well as to understand the unanimous goal. With years of practicing yoga and teaching, he found yogic practices as the most perfect and relevant medium to lead a peaceful life in modern times. During his journey including a year in abroad, he does believe to a constant exploration and grooming as a yogic seeker.

Shailendra's journey in yoga began with a Master's degree in Philosophy. Simultaneously he continued with Hatha yoga practices & qualified RYT 200, RYT 300 with Yoga Alliance USA. He explains his students to be abided by the yogic disciplines and adds further that slow but steady is better than fast & being impatient. In his words, endurance with determined efforts helps a student to restore natural being through yoga. Exerting on basic yogic movements and alignment, he promotes mindful investigative approach among the students. He has a reasonable command over practical aspects and explanations of Philosophy (Darshan). Besides this, he also teaches the fundamentals of yogic anatomy and physiology. For all of his achievements, Shailendra gives credit to his Gurus and family.
Hukam Ji:
Ashtanga & Multi Style, Alignment
Hukam was born in Rishikesh which is situated at the foothills of Himalaya, in the state of Uttarakhand India. He has been practicing yoga since his childhood and got the yogic atmosphere from his family as his elder brother who is also an experienced yoga teacher and of course, his first Yoga Guru (teacher), helped him to understand the importance of yoga more precisely.

Having the support and encouragement of family he completed his graduation in Physical Education. Thereafter he devoted himself to the professional yoga practices and teaching. Hukam sharpens his skills and expertise through different yoga courses, competitions, and workshops. He has also got RYT 200 & RYT 300 certification from Yoga Alliance (Rishikesh). In early days of his teaching, he started to teach yoga in Rishikesh than later he taught in Thailand, Indonesia and presently he is teaching in Yog Amritam Rishikesh, India.

Hukam's practice involves Hatha Yoga, Astanga, Vinyasa, Flow yoga and Acrobatic. Thus he leads his class with a nice blend of his practices. He is very much concerned when he explains about yoga to his students; he says that Yoga is not just practicing the body movements or flexing muscles, but moreover is to realize the need as a harmonized body with the calm mind, which leads the complete meditative state for a healthy and happy life.
Yogacharya Manish Uniyal Ji:
Iyengar Style, Anatomy Alignment
Yogacharya Manish Uniyal started his yoga journey in 2007 when he joined certificate course in yogic science from Dev Sanskriti Vishwavidyalaya, Haridwar. This was the very first experience for him in such a yogic environment which had taken him up and affected him in a deeper and spiritual way. After that Manish went for further studies and done Master in Yoga (MA). He has high regards for his all gurus. With all that he has a great impression of Mr. Praveen Nair Ji, a renowned Iyengar Yoga Teacher, whom he always seeks for guidance. He is also an RYT 200 certified Yoga teacher from Yoga Alliance (USA).

Therefore in Manish's specific style of teaching imbibes the combination of Hatha, Iyengar and flow yoga and lays more attention in alignment, correction, and adjustment of asanas. It helps him to explain and exemplify all the aspects and doubts on the practical basis. Manish with enthusiasm has been sharing knowledge of yoga to several places in India as well as in abroad. Manish believes if you follow, you can guide well.
Yogacharya Ramesh Negi -
Ashtanga Yoga & Hatha Yoga, Multi Style Yoga
Yogacharya Ramesh Negi's yoga journey started since his early school days. His interest in physical activities led him completely toward ypgic practices. After schooling he joined certain yoga institutions. Therefore with full determination for making career in yoga, Ramesh got the Master Degree in Yoga (MA Yoga). Later has done 200 hour Yoga Teacher Training Certificate certified by Yoga Alliance USA as well.

Ramesh has very good command at traditional Hatha yoga and the most prevalent yoga styles as Iyengar yoga and Ashtanga yoga.He continuously works on his flexibility and balancing through his own regular practices and patience with moving on attitude. In his classes he analyses and explains accordingly or as per the need of the student. He alerts the students that the perfection in asana is accomplished with the very theory regarding.Developing patience with continous efforts and stabilizing the strength is the base for having a perfect balance in asana and the personality as a whole, is his message to the students. Ramesh believes in a yogic phrase that " yog rakhe nirog", which literally means that by practicing yoga the body and mind remain healthy.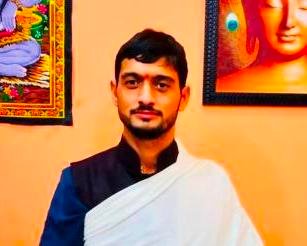 Acharya Subhaskar Dangwal
Mantra & Chanting, Astrology, Sanskrit language
Subhaskar is a native of the Shivalik foothills of the Himalaya and his upbringing happened in the world's yoga capital, Rishikesh - India. He belongs to a traditional Brahmin family. He has a Master degree in Yoga as well as a Master degree in Samskrit Grammar. So having a great command in both the traditional yoga and the Samskrit language & Scriptures, Subhaskar has a nice humble personality among the Yogic community. His techniques of sharing are well organized and oriented. He always tries to deliver the lessons or lectures with easiest examples. Being from the Samskrit language background he has a competent knowledge of Astrology, Mantra Chanting and their impacts as a whole. He explains to the students with great patience by considering all the aspects
Yogacharya Amitesh Kothari Ji:
Meditation, Pranayama, Yog Nidra
Amitesh Kothari is an experienced Yoga teacher and naturopathy expert. He provides health and wellness training to the groups as well as to the individuals. Having more than eight years of experience of teaching yoga at schools, army camps, hospitals and other public and private settings, he does believe in continuity of efforts and practice.In his delicate way of teaching he stresses on the individuality of the need of the yoga practitioners. Therefore appropriate designing and supervision of the yoga programs according to the capability and desire of the practitioners, are always in priorities for him. He utilizes his expertise on naturopathy and the ayurvedhyic diet in his Yoga classes.

Amitesh believes that learning is a continuous process so the seeker always has to have the charm of positivity or enthusiasm to move ahead in yogic path.Professionaly Amitesh holds Masters in 'Yogic Science' from Gurukul Kangari University, Haridwar and P.G. Diploma in 'Yogic Science' from HNBGU Srinagar besides that he also holds diploma in 'Naturopathy'.
---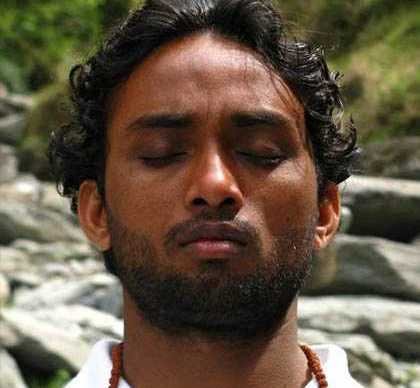 Yogi Harish Chandra
Guest Yoga Teacher
He has been practicing yoga, meditation and its philosophy for last 16 years. He intends to follow the spiritual path and the continues the quest of finding the real self through the spiritual path with the help of our ancient knowledge of mythology and studies.

He has been following these yogic and karmic philosophies since childhood and has paid a visit to the renowned spiritual locations like Himalaya, Haridwar and Rishikesh where he was deeply involved in practicing Yoga, Meditation and true Indian philosophy. Through the yoga teacher training course in Rishikesh and the other spiritual places, he gained a profound knowledge about the meditation, Patanjal yoga sutra, Shankhya Karika and Bhagavad Gita through many renowned spiritual gurus like Swami Veda Bharati, Swami Dayananda, Yogi Buddhi Prakashji.

He has travelled to the Himalayas for practicing intensive and Meditation to Vashista cave, Gangotry. During the visit, he met many great shadhus (yogis) who shared their years of deep yogic knowledge, which he is now keenly sharing with spiritual seekers and enriching them with the secrets of yoga which cannot be found anywhere better than at the Yog Amritam Rishikesh.